Last Updated on May 8, 2021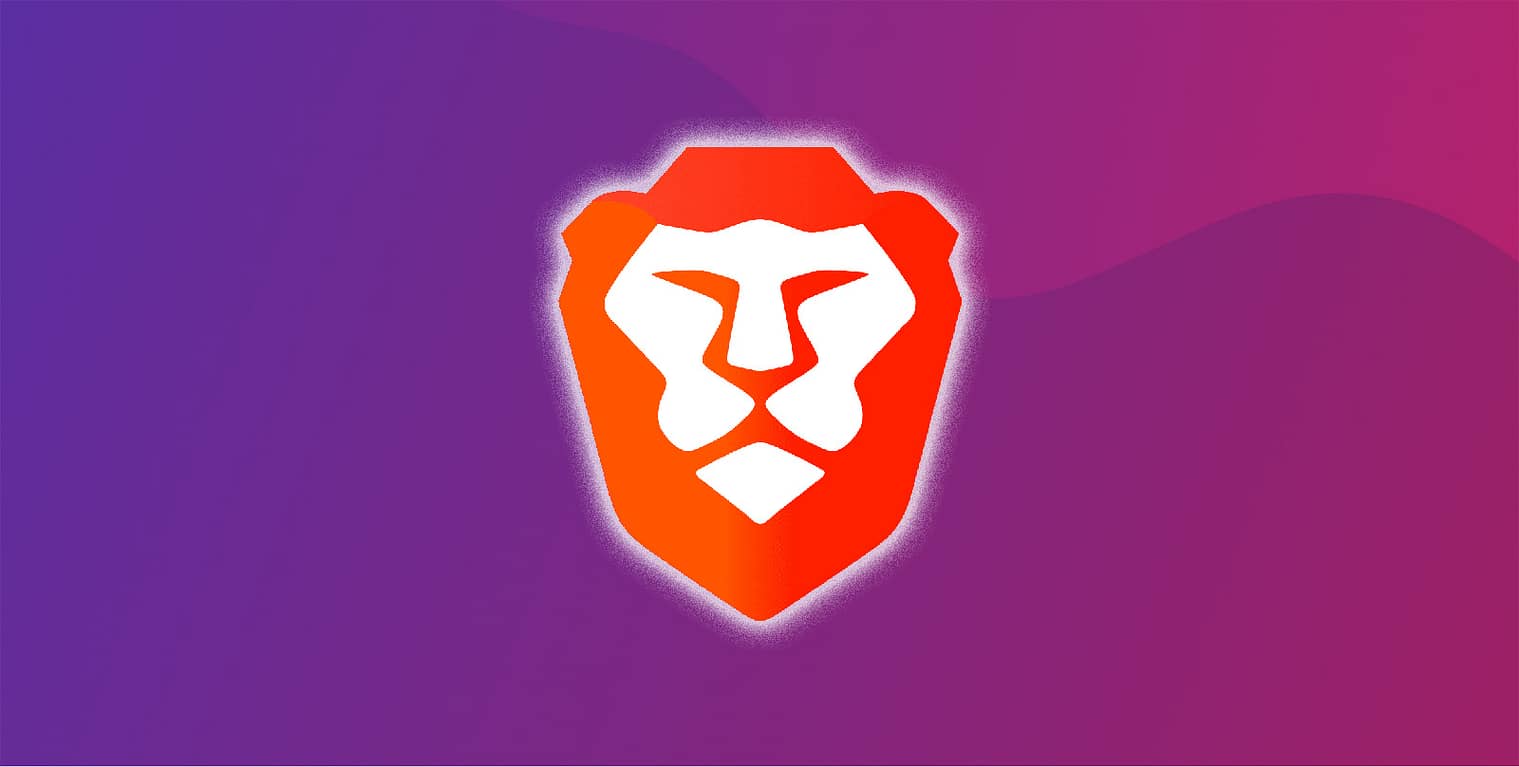 Today I'm going to show you how to earn crypto with Brave browser with $0 investment!
I will guide you through everything you need to know about Brave and its crypto ecosystem and I will show you the best ways to earn crypto through everything that Brave has to offer.
Please bear in mind that this is not a quick way of earning money or some "get rich overnight" type of thing. Earning crypto via Brave is a slow and long process that requires time and involvement on your part.
In this guide, I will explain why it is a good time to start using Brave and start collecting crypto as soon as you can. You know very well that what is worth $0.2 now, can be worth $20 in a few years.
So if you want to learn how to earn crypto with Brave browser with $0 investment, this is for you!
What is Brave?
Brave is a free, open-sourced, privacy focused-web browser based on Google's open-source Chromium browser code.
It has a plethora of features similar to other browsers like Firefox and Chrome but stands out with one outstanding feature no other browser has — a system through which you can earn money by viewing private ads and support your favorite content creators.
They call it Brave Rewards.
In this guide, I will focus on the Brave Rewards system, but that doesn't mean the other features should be neglected. They are part of the same ecosystem that together bring huge improvements to the web.
Here are my favorite 7 benefits of using Brave browser:
Faster browsing — without all the ads, pop-ups, and videos, it helps to speed up the page loading times 3x to 6x faster than Chrome and Firefox.
Blocks ads and trackers — I can browse seamlessly without seeing any ad on my screen.
Privacy control — Brave never collects, stores, or has any access to my browsing and personal information.
More secure — Brave will use an encrypted connection on every site based on HTTPS Everywhere 

100

's rules.
Save money & time — Without redundant ads and trackers that clog a web page, I save both money and time. So far Brave has blocked 190,106 trackers and ads and saved me 7.66 GB of bandwidth and 2.6 hours. In reality, these numbers are twice as big because I use Brave on multiple computers.

Playlist (iOS only) – I have a playlist right in my browser from multiple streaming platforms such as Spotify and YouTube and I can play my favorite songs whenever I want.
Earn money — I get paid for viewing personalized ads and the content that I publish.
This is the complete list of features available at the time of writing.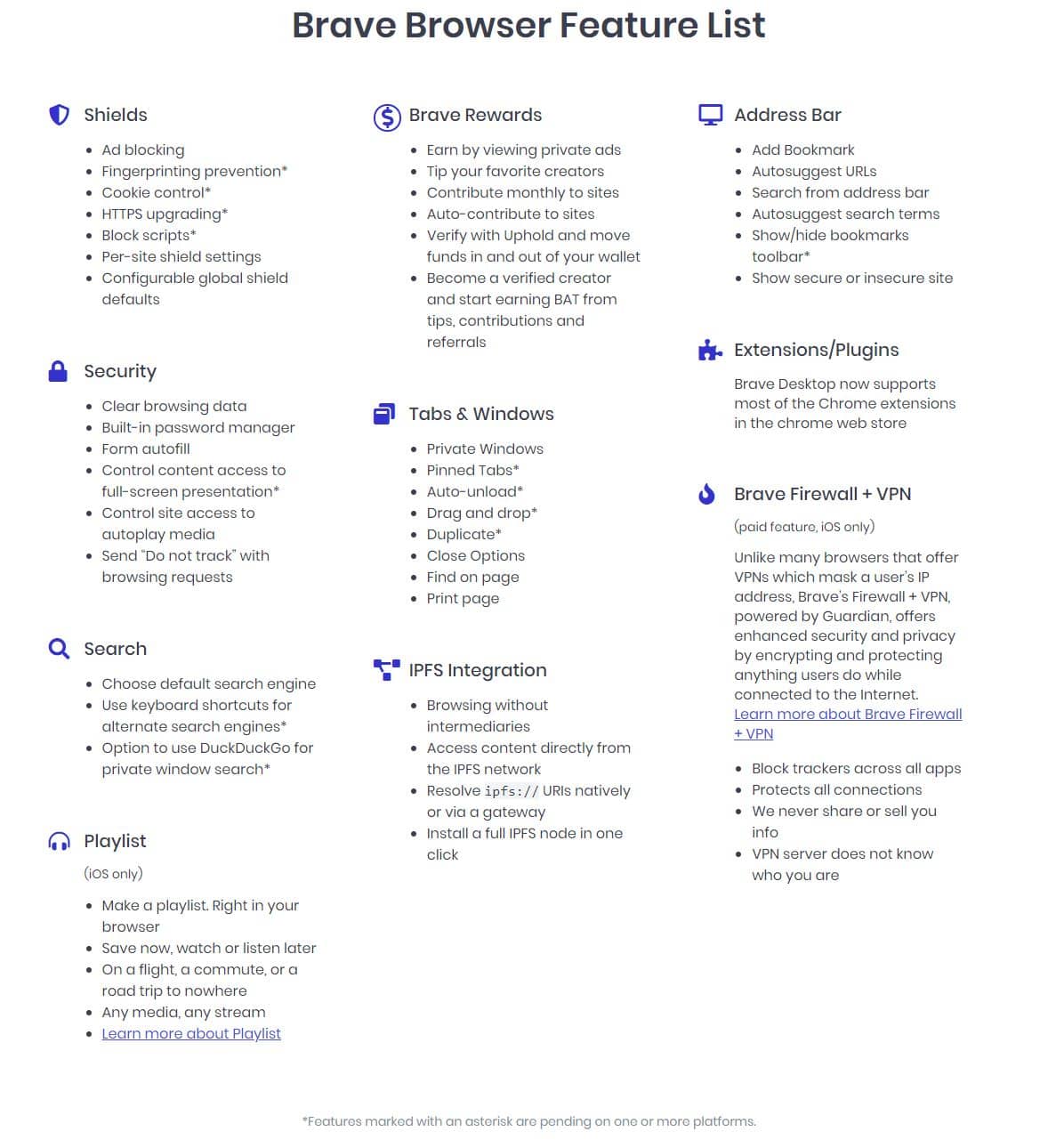 🔎 Basic Attention Token Overview
The idea is simple.
The BAT (Basic Attention Token) was developed to address the inefficiencies and privacy violations of the current digital ad industry.
The token is built on top of the Ethereum blockchain and it is the unit of exchange in this new, decentralized, open-source advertising platform. In this ecosystem, advertisers give publishers BAT based on the measured attention of users.
As a user, one way you can earn BAT is through viewing Brave Ads, which are push notifications, rather than those annoying on-page display ads because of which ad-block plugins are nowadays among the first things you install after the operating system.
In fact, ad-block plugins can become a thing of the past because Brave blocks the ads by default and the scripts that track your internet footprints.
Here is a side-by-side comparison of the present ecosystem of the digital ads industry and BAT's own approach to solving these issues.
This system is a game-changer in the digital advertisement industry where both advertisers and users are in a win-win situation.
The people are already embracing this revolutionary concept and the community around it is growing surprisingly fast as time goes by.
With this in mind, let's move on to how to earn crypto with Brave Browser.
💵

How to Earn Crypto With Brave Browser
There are currently 4 ways you can earn crypto through Brave.
Let's go over each one:
Earn crypto by viewing push notification ads while surfing the web
Get FREE airdrops of BAT by just using Brave
Earn BAT tips for content you publish to the web
Earn crypto by viewing sponsored background images on New Tabs
ℹ️ Not so long ago there used to be one more way to earn extra BAT by inviting users to download and try out the browser.
Sadly, on 9th November 2020, they announced that they will shut down the referral program as it exceeded its goal by 13x. You could've earned up to $7.50 in BAT for a referral – which was more than a generous extra income especially for content creators with hundreds or maybe thousands of potential referrals.
Fortunately for me, I managed to catch on this boat and I earned a few dollars from this program.
I hope that in the future Brave will come up with similar incentives to give its active users extra ways to earn crypto.
💲If you opt into Brave Rewards, you will receive a 70% revenue share for notification-based ads and sponsored images; the other 30% goes to Brave.
🌊

Earn Crypto By Viewing Push Notification Ads While Surfing the Web
As soon as you install the browser, you have the option to turn on Brave Rewards and start earning free BAT for surfing the web and receiving push notifications from Brave.
As I said earlier, you won't get rich by viewing ads but it's better than nothing. For comparison, Chrome and Firefox don't pay you a dime for using them.
The ads look similar to the one below if you're on Windows 10. Their structure is kind of the same on all devices.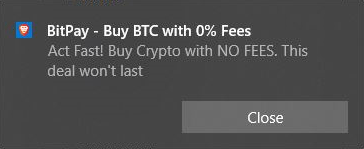 You don't have to worry about the displayed text because each ad campaign is thoroughly verified and manually approved by Brave staff who impose strict quality criteria.
Each advertiser is verified by Brave and he cannot update an ad without Brave's prior approval.
All ads are good quality and SFW (safe for work), not deceptive, misleading, defamatory, or sensational like other platforms. Moreover, claims in ads must be backed by appropriate scientific evidence!
You can read more on Brave's Advertising Policy here.
On which platform you receive the most ads, Desktop or Mobile?
You might notice that sometimes you get more BAT when using your desktop computer over your mobile devices and the other way around.
This is because advertisers can choose to advertise specific platforms. For this reason, there might be more ads available for mobile than there are for desktops at any given time.
How much can you earn per ad?
💰 Different advertising campaigns are worth different amounts of BAT.
For example, some campaigns are worth 0.025 BAT per view, while others are worth 0.01 BAT, others are worth 0.1 BAT, and so on.
✔️ Turn On Brave Rewards
Once you open Brave, a setup wizard pops up and it will guide you through a basic and fast customization check-up.
While at it, you can enable Brave Rewards through this setup wizard and start to earn crypto right away!
If you didn't turn on Brave Rewards from the setup wizard, there's an alternative.
Open the Browser and click on the BAT triangle logo on the right side of the URL bar or type this into the URL bar brave://rewards/
Turn on Ads
Click on "Ads Settings" and choose the maximum number of ads you want to see per hour (1 to 5. Default is 3)
There is one extra setting you might want to consider – Auto-contribute – which is enabled by default.
This is an automatic way to support publishers and content creators (like yours truly). You can set a monthly contribution to your likings and every month you will be donating BAT to those particular content creators.
This is a nice way of showing your love and support!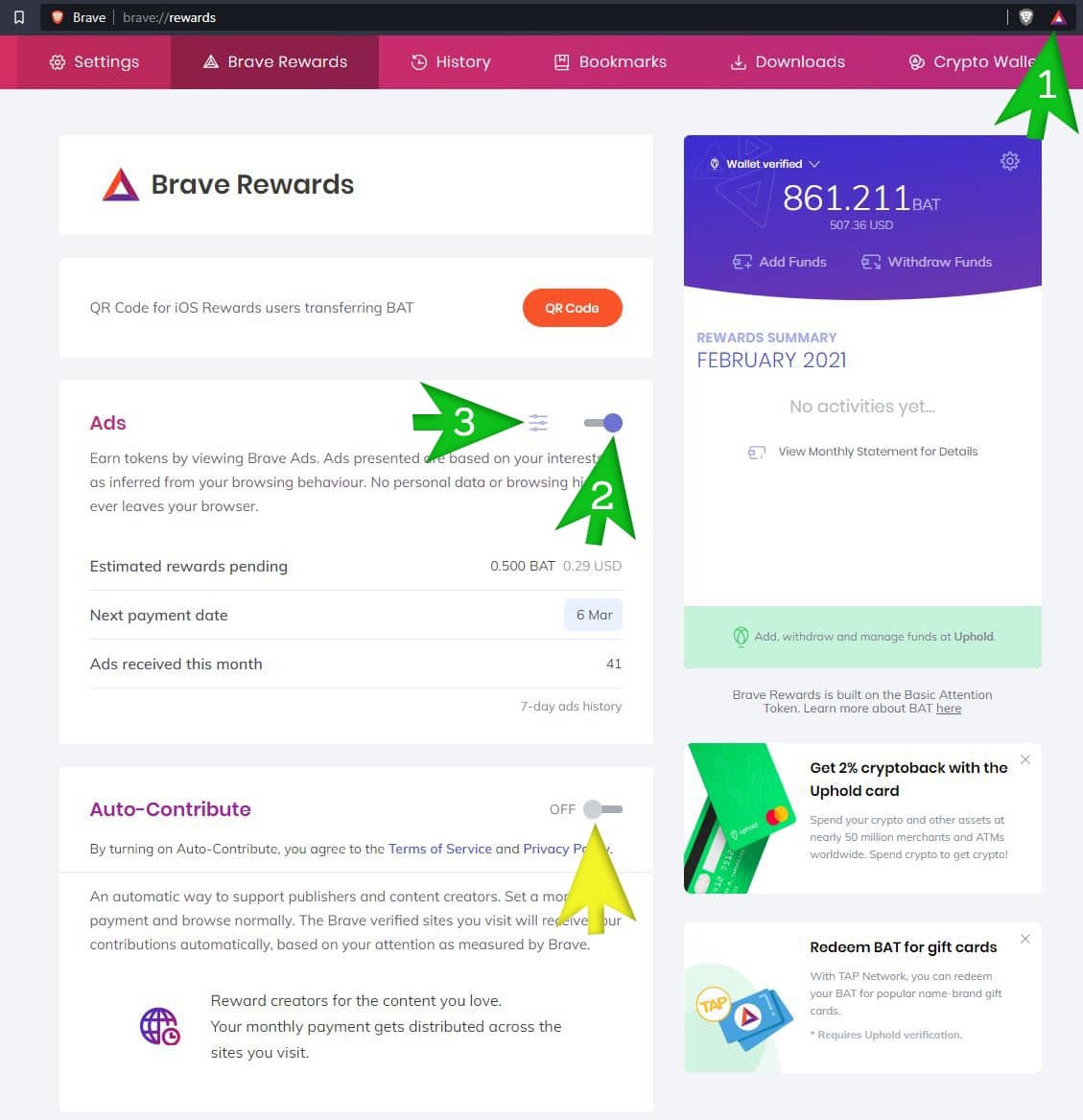 If you don't want to donate BAT every month, you can disable this option and all the BAT you'll earn will be available in your crypto wallet.
Summing up, these are the simple steps you need to take to turn on Brave Rewards through which you will receive push notification ads and passively earn crypto while surfing the web.
Also, I encourage you to check out the Brave Ads FAQ to find out more technical details about ads such as how many campaigns are running in your country or how you are rewarded for interacting with the ads received from Brave.
📦 Get FREE Airdrops of BAT By Just Using Brave
First of all, what actually is an "airdrop"?
If you look up the word in the dictionary. it says "delivery of cargo, emergency supplies, or personnel by parachute from an airplane in flight".
Much like the ordinary definition of this word, we use the term "AirDrop" to signify a special event where participants can receive free tokens or earn crypto into their digital wallet for free or sometimes for a small task.
As an interesting note, Apple Inc. coined the first digital version of the phrase and it means to digitally drop off a file or a message to another Apple device, similar to Bluetooth.
Now that the definition of the word is no longer a mystery, let's see how you can actually earn crypto.
How to Earn Crypto airdrops
If you have the Brave Rewards turned on, you are eligible to receive airdrops.
These airdrops typically become available every month. Users may claim token grants once every 30 days.
A notification will appear on the BAT triangle logo on the right side of the URL bar when an airdrop is available.
Here is a video from the BAT Community YouTube channel that shows how you can claim your free BAT:
Although they say that every month there are chances to receive an airdrop, the community reports (myself included) that this is no longer relevant.
I've been using Brave for almost a year and I have only received airdrops a few times, and I use my PC daily, for hours on end. The chances of an airdrop slipping through my fingers are kind of slim.
On the other hand, my significant other received airdrops for 3 months in a row while I received absolutely none.
I don't know exactly why's like this and I haven't found a page on their official website that explains why some members receive airdrops and others don't.
💰 The amount of BAT you can earn in an airdrop is somewhere between under a BAT and a few BATs.
In conclusion, although there are chances that you will not receive a monthly airdrop, it represents an additional way you can earn crypto.
🎥 Earn BAT Tips For Content You Publish to the Web
If you are a content creator, you can join Brave Rewards for Creators and start monetizing your content.
With Brave Rewards, users can send BAT tips directly to any verified sites and content creators.
In a matter of seconds, your followers, subscribers, or readers can automatically make a one-time donation or set up a monthly schedule to anonymously support you.
To start and earn crypto through Brave Rewards, you have to sign up as a creator.
Then you'll need to add your site or channel and confirm your ownership.
At the time of writing, Brave lets you activate Brave Rewards on the following channels:
Your website
YouTube channel
Twitch channel
Twitter
Vimeo channel
Reddit
GitHub
Other channels are to be added in the future.
As a creator, there is a Tipping Banner you can customize which fans will see when they want to tip you.
Use this Tipping Banner as a way to send a message and thank your fans for supporting you.
💰 I think being a Brave Creator is the best way you can earn crypto with Brave, even if you don't use it as your default browser. As long as you have and create quality content that people appreciate, you are on the road to success.
The more people interested in what you create, the better your chances of them giving you tips.
It's the best way to passively earn crypto with Brave!
🖼️

Earn Crypto By Viewing Sponsored Background Images on New Tabs
One of the most recognizable elements of Brave is the background images shown on the new tab page. These photos are selected by Brave's design team and some have been submitted by members of the community.
In January 2020, Brave introduced these sponsored background images that will appear in the form of large, beautiful background images within the new tab page.
This is a new and laid-back way to earn crypto for just using Brave as your default browser.
You can also easily turn off all sponsored images if you don't like them.
Here's how a sponsored image looks like on the new tab page: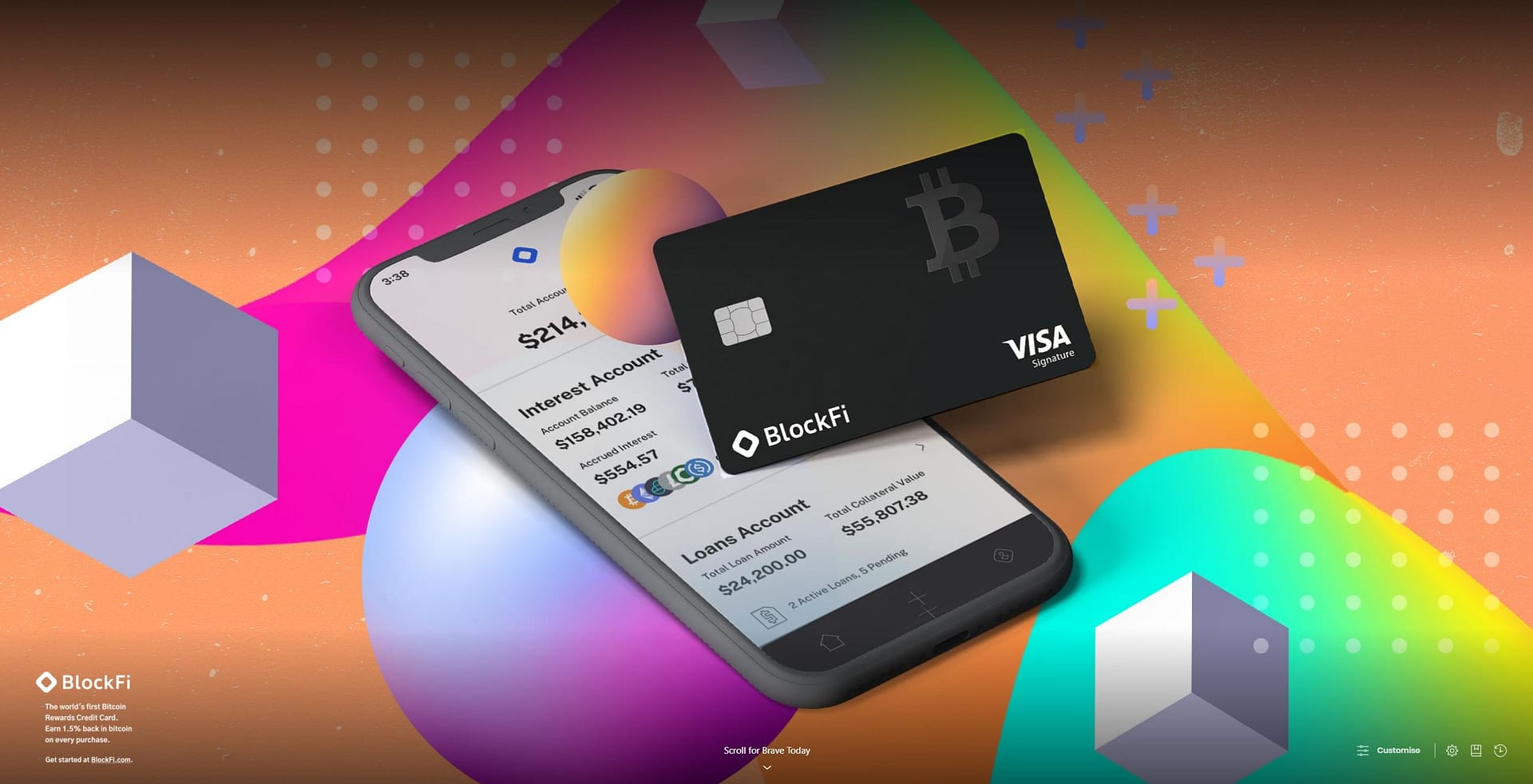 💰 You can earn ~0.01 BAT per sponsored image viewed.
They appear once every 4 times. You can also trigger them by refreshing the new tab page multiple times. Although spamming this is likely to not yield a reward for viewing.
Similar to notification-based ads, sponsored images are a decent way to earn crypto by just simply using Brave as your daily web browser.
ℹ️ Additional Useful Tips
Verifying your wallet is optional
You can earn crypto and contribute BAT without signing up for anything. But if you want to cash in your BAT or buy more funds for your wallet, you need to verify your wallet through Uphold.
At the time of writing, Uphold doesn't have a very good reputation among the Brave community primarily due to the high withdrawal costs and limits.
Get rewards from the Tap Network
PlayStations, Xboxes, Apple products, Visa Gift Cards, and many more can be purchased using your BAT balance in Brave.
Back up your wallet
The rewards are tied to the installation of Brave on your device. That means if you change devices, your wallet will no longer be available for that specific device.
Luckily, you can obtain a recovery key with which you can back up your Brave Rewards wallet!
This key is extremely important!
Make sure you keep the recovery key in a secret and safe place!
Cash in the rewards with Uphold
Create an Uphold account and verify your wallet so that Brave can deposit your hard-earned BAT into your account.
This way, you don't have to worry about losing your secret recovery key.
Although, make sure you pay attention to Uphold's withdrawal costs should you want to withdraw the money to a private wallet.
Set Brave as your default browser on all your devices
Brave is available on multiple platforms (Windows, macOS, Linux, Android, and iOS), so why not use it on all of them and increase your chances of earning crypto.
Be aware that depending on the platform you are on, certain features of Brave may be different.
Use Brave Firewall + VPN
Use Brave's built-in Firewall and VPN to block trackers across all apps and secure all connections.
This is a premium feature, but they give you a 30-day FREE trial.
You can find out more here.
Use Brave for your web development projects
Because it is built on Chromium, Brave has the same Developer Tools as Chrome.
No need to switch between Chrome and Brave.
Block Spotify Ads
Thanks to Brave's built-in ad-blocker, you can by default block Spotify's both visual and audio ads.
This means that you can use your free Spotify account as if it were a premium account as long as you use the browser version of Spotify.
While this is more of a hack, please bear in mind that it might violate Spotify's ToS.
Also, be kind and support your favorite artists!
Conclusion
I consider Brave to be the most useful browser at this moment.
Not only does it have many options related to the security and the privacy of the user, but Brave's business model is focused on quality and improving the web.
Moreover, it gives you ways to earn crypto while safely browsing the internet and tools to support your favorite content creators.
It's like a Swiss Army knife of web browsers!
---
🙏 Thank you for taking the time to read the whole article. I hope you found it useful!
Make sure you subscribe to my newsletter to receive more free content like this one.
Have you tried Brave so far?
What other methods to earn crypto with Brave do you know?
Would you be interested in other topics on how to earn crypto?
Do you want a place where you can talk about personal finance, investing, wellness and lifestyle? Come join us on Personal Finance, Investing, and Wellness close-knit group on Facebook!