Last Updated on May 8, 2021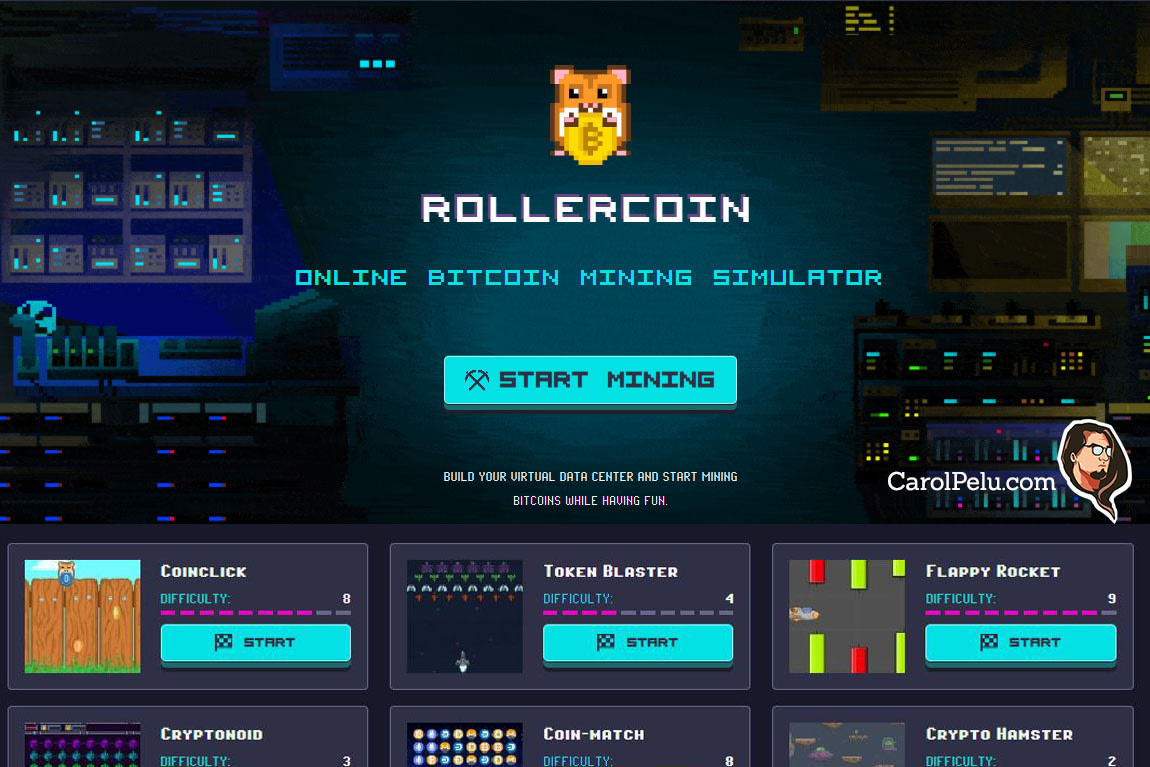 Today we're going to have a look at a crypto game where you legit earn what you mine.
RollerCoin is a fun online simulator where you play as a crypto miner that earns computing power by playing all familiar mini-games.
In this guide, you'll find out how:
RollerCoin works
To earn passive income by playing mini-games
To optimize your earnings
Much passive income can you earn with RollerCoin
Let's dive right in!
DISCLOSURE: This post contains affiliate links, meaning I get a commission if you decide to use or make a purchase through my links, at no cost to you. Please read my disclosure for more info.
What is RollerCoin

?

🐹
RollerCoin is a free online crypto mining simulator that gives you the feel and understanding of mining reality but in a form of a game.
Though the mining is not actual calculated on the blockchain, players are rewarded with real cryptos such as BTC, ETH, and DOGE.
This crypto game offers an ecosystem free of sophisticated blockchain and processing algorithms and largely tests your management and gaming skills and most importantly, your patience.
The gameplay, in a nutshell, is as follows:
You play mini-games to increase your mining power
Every 10 minutes you earn crypto based on your mining power
You either choose to cash out or you invest your earnings to earn even more in the long run
Simple enough.
How Can I Earn Crypto?

₿
So far, there are three ways to make money with RollerCoin.
Play games and increase your computing power (hash rate) to mine more crypto and cash out as soon as you can
Invest your hard-earned crypto in miners, which will give you a boost of computing power which means an unlimited passive income
Make referrals and receive 25% of the total profit of the referred user and 10% of any purchase they make
If you didn't already notice, you've already entered the simulator. You are now beginning to think like an investor in the crypto market.
So what path do you choose?
How Much Can I Earn?

💰
If you choose not to invest and cash out whenever you can, your income will be low.
Let's say, you can earn somewhere between $1 and $15 a month if you play every day for like an hour or so.
On the other hand, if you choose to invest the money in miners, you can end up earning maybe $50 – $100 per month in the long run.
If this sounds good to you and you want to give RollerCoin a try, you can create an account using my link and receive 1000 Satoshis for FREE!

https://rollercoin.com/?r=knamcgex

Your support means so much to me and will help me create content like this one.
Let's touch on each earning method to find out its potential.
Earn By Playing Mini-Games

🎮
RollerCoin currently has 10 games available and a bunch more are still in development.
You might be already familiar with them because they are similar to other well-known titles such as Flappy Bird, Space Invaders, Brick Breaker, and so on.
The games can be played on both Desktop and Mobile.
Although I found it pretty difficult to play some games on Mobile such as Crypto Hamster because I didn't have firm control over the character's movements.
But the other games are almost a breeze and a nice source of fun on Mobile.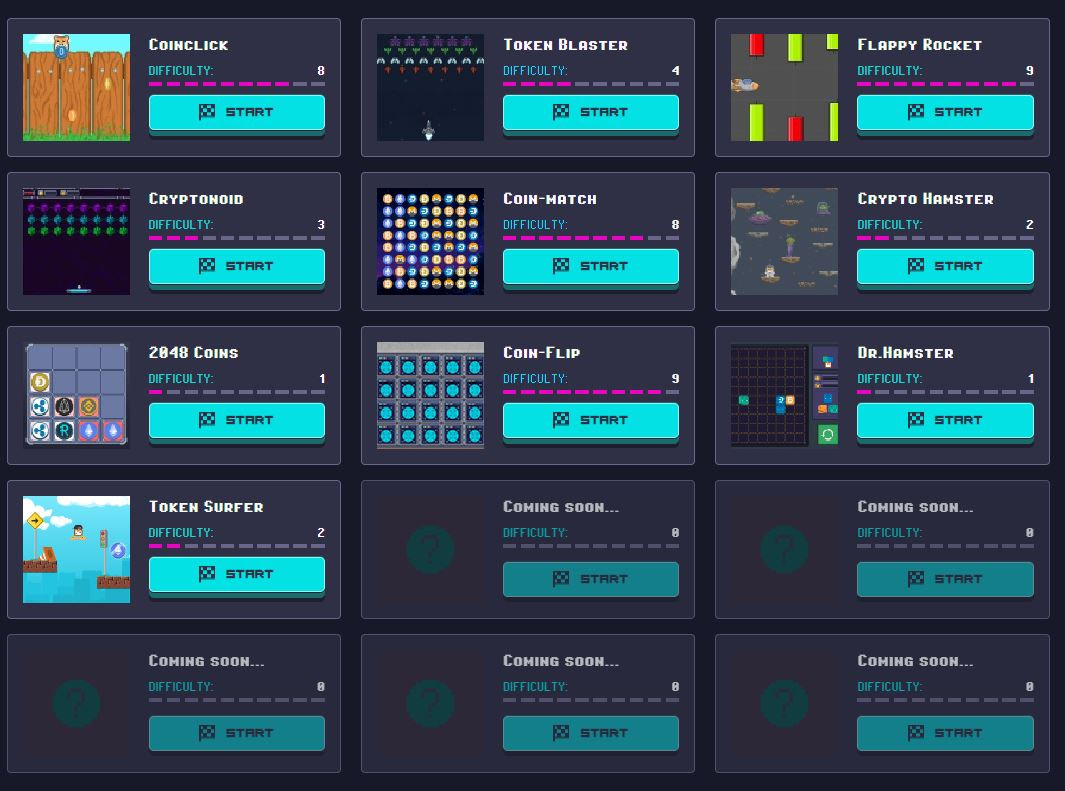 Each game gives you a certain amount hash rate (computing power) even if you fail to complete a level.
In the beginning, they provide about 700GH/s hash rate and winning will advance their level, difficulty, and rewards.
Which Game Is The Most Profitable?

🤑
At the highest difficulty and level of progress, the rewards are at around 1300GH/s.
From my point of view, Coin-Flip and Coin-Match are the most profitable games, followed by Cryptonoid.
Coin-Flip and Coin-Match take less time to complete and they are pretty easy to play.
Although Cryptonoid has a high reward output, I found it very difficult to surpass certain high levels.
And speaking of difficulty, the game CoinClick is one of the easiest games.
All you have to do is to click on falling coins and its level of difficulty is small even at high levels.
So my advice is not to neglect it, because it gives you a considerable boost of hash rate overall.
Upgrading Your Computer

🖥️
The computer plays an essential part in the game.
Typically, your hash rate gained from playing games expires after only 24 hours.
However, better computers allow you to extend the time the computing power lasts.
This should be your main focus point since it makes playing games crucially profitable.
The best computer places a 7x multiplier on the amount of crypto earned from games.
There are currently 4 versions of a computer:
Amstrad CPC 6128 (you start with this) has a power holding of 1 day
RC7823 has a power holding of 3 days and it's achievable through winning 10 games
Roller-Predator3000 has a power holding of 5 days and it's achievable through winning 30 games
Roller-MacPro has a power holding of 7 days and it's achievable through winning 60 games
Important notice, to maintain the PC and stop it from downgrading, you must win at least one mini-game each day!
Earn Passive Income With Virtual Miners

⛏️
So if you want to get the most of RollerCoin and you are looking for a long-term investment, you should buy virtual miners and earn passive income even if you are offline.
There are several miners available to choose from.
From my point of view, the most profitable miners are currently Chupacabra (low-end) and El Monstro (high-end).
But there is a much more profitable way of buying virtual miners and get the most of them.
And that is…
Buy Miners Where They Are On Discount

🈹
From time to time, especially on Christmas, Halloween, or Saint Patrick's Day, RollerCoin hosts certain events and the virtual miners get massively discounted.
You can buy a virtual miner up to 60% cheaper if you are patient enough to wait for such events. This brings you a much better return on investment.
At the moment, it's almost not even worth buying a miner at full price.
What's the Best Way to Grind For Miners?

⚙️
The best way to grind in order to buy miners if you don't have RLT is to farm ETH.
Right now the most profitable way to get RLT is to farm ETH because there are not that many people who mine it. And that means more for you!
Moreover, sometimes you can buy RLT with ETH at a discount which is even better.
But at the moment people no longer mine ETH like they used to due to extremely high gas fees. They are waiting for the launch of Etherium 2.0 when the gas fee is expected to decrease.
Earn Passive Income With Referrals

💲
RollerCoin has a pretty generous referral system.
You receive 25% from referral's profit and 10% from in-game purchases.
RollerCoin is fun and easy to get started and that means there is no barrier to entry for users.
Once your referrals get mining rigs, then you would receive an additional permanent stream of passive income.
Moreover, if your referrals make their own referrals, your income can really ramp up beautifully.
Leaderboard

👑
RollerCoin's community is competitive, and for good reasons. You fight to get a bigger piece of cheese – Uhm, I mean mining block.
Apart from the fact that you can inspect other players and see their mining rigs, the leaderboard is almost irrelevant to most of the players.
There is currently no actual benefit from being higher on the leaderboard.
Withdrawing

💳
RollerCoin does pay, there is no doubt.
It has one of the best transaction fees at the moment.
For BTC and DOGE there is no transaction fee!
Minimum withdrawal amounts:
BTC: 0.0001
DOGE: 150
ETH: 0.008
The minimum withdrawal amounts are subject to change, depending on the crypto market.
Final Thoughts

💡
RollerCoin will not make you rich.
However, with patience and perseverance, you can boost your passive income in the long run.
It's a game you can play when you have nothing better to do. And that's all fine because every penny you earn adds up in the end.
Moreover, it is a very good gateway for those who want to step into the crypto world.
The game has great potential!
If you have any questions about RollerCoin, please leave them in the comment section below!
I will update this guide in time and add more earnings strategies in the future.
So make sure to bookmark this page and visit once in a while!
---
🙏 Thank you for taking the time to read the whole article. I hope you found it useful!
Make sure you subscribe to my newsletter to receive more free content like this one.
Have you tried RollerCoin so far?
What other methods to earn crypto with RollerCoin do you know?
Would you be interested in other topics on how to earn crypto?